Ruins of Eli

Ruins above Eli Village, in the foot hills of Mount Ararat
In 1988, we were taken just above Eli Village by the locals to see acres and acres of stone fences. This area appears to be an old camp or settlement. I recall that some of the locals had dug up some old stone jewelry and artifacts from these ruins.
Like so many other areas around Ararat, there are stones with eight crosses on them near Eli Village.

With these ruins being so close to Mount Ararat, the area should be considered for further investigation by professional archaeologists.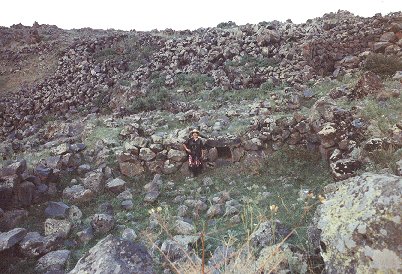 There are even more intriguing ruins northwest of Mount Ararat at Korhan. ARF, John Morris and Larry Crews investigated Korhan in the 1960's, 70's and 80's. Please see Larry Crews' photos of Korhan.
Another site that should be investigated is the St. James Monastery that was destroyed along with the village of Ahora in 1840. It would seem likely that possibly ancient records were concealed there.
All of these sites are off limits because Ararat is a second degree military zone in order to discourage terrorists from hiding there.