---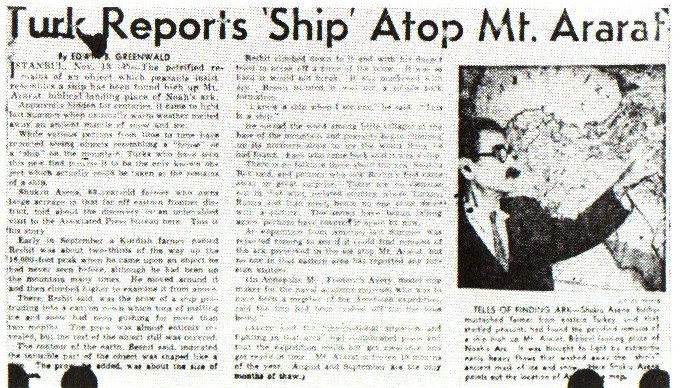 Kurdish Farmer Reshit as told by Shukru Asena - 1948 A.D.
Shukru Asena, a 69-year-old farmer who owned large acreage in the Eastern Turkey frontier district, announced the Reshit story to the Associated Press in 1948.
Turk Reports 'Ship' Atop Mt. Ararat
By Edwin B. Greenwald
ISTANBUL, Nov. 13 (AP)-The petrified remains of an object which peasants insist resembles a ship has been found high up Mt. Ararat, biblical landing place of Noah's Ark. Apparently hidden for centuries, it came to light last summer when unusually warm weather melted away an ancient mantle of snow and ice. While various persons from time to time, have reported seeing objects resembling a "house" or a "ship" on the mountain, Turks who have seen this new find purport it to be the only object which actually could be taken as the remains of a ship. Shukru Asena, 69-year-old farmer who owns large acreage in that far off eastern frontier district, told about the discovery in an unheralded visit to the Associated Press bureau here [Istanbul]. This is his story: Early in September a Kurdish farmer named Reshit was about two-thirds of the way up the 16,969-foot peak when he came upon an object he had never seen before, although he had been up the mountain many times. He moved around it and then climbed higher to examine it from above. There, Reshit said it was the prow of a ship protruding into a canyon down which tons of melting ice and snow had been gushing for more than two months. The prow was almost entirely revealed, but the rest of the object still was covered. The contour of the earth, Reshit said, indicated the invisible part of the object was shaped like a ship. The prow, he added, was about the size of a house. Reshit climbed down to it and with his dagger tried to beak off a piece of the bow. It was so hard it would not break. It was blackened with age. Reshit insisted it was not a simple rock formation. "I know a ship when I see one," he said. "This is a ship." He spread the word among little villages at the base of the mountain and peasants began climbing up its northern slope to see the weird thing he had found. Each who came back said it was a ship. An expedition from America last summer was reported coming to see if it could find remains of the ark preserved in the ice atop Mt. Ararat, but no one in that eastern area has reported any foreign visitors. (In Annapolis, Md, Frederick Avery, model ship maker for the naval academy museum who was to have been a member of the American expedition, said the trip had been "called off for the time being." Avery said that the "international situation and fighting in that area" had complicated plans and that the expedition could not get clearance and get ready in time. Mt. Ararat is frozen 10 months of the year. August and September are the only two months of thaw.)
TELLS OF FINDING ARK-Shukru Asena, bushy-mustached farmer from eastern Turkey, said that startled peasants had found the petrified remains of a ship high up Mt. Ararat, Biblical landing place of Noah's Ark. It was brought to light by extraordinarily heavy thaws that washed away the "ship's" ancient mask of ice and snow. Here Shukru Asena points out the location of Ararat on a map.
---


Home | Overview | Book | FAQ's | ArcImaging | Links | News
Presentation | Urartu | Mt. Ararat | Mt. Cudi | Durupinar | Iran | Bible Archaeology | Ark Game