---
The best two ways to get an overview about the search for Noah's Ark is to go through the ArcImaging Search for Noah's Ark Online Presentation and to read the classic book, The Explorers of Ararat: And the Search for Noah's Ark.
Great Commission Illustrated (GCI) Books initially published The Explorers of Ararat book in May of 1999 with 482 pages and 265 photographs, which was initiated by B.J. Corbin, authored by numerous expedition leaders, a great historical reference section with both pros and cons of alleged eyewitnesses, and edited by Rex Geissler.
Though there have been many claims of a discovery of Noah's Ark in ancient documents and recent books/films, there is no scientific proof, public photograph, or evidence of the survival or existence of Noah's Ark.
However, there are hundreds of cultures around the world that make reference to the flood and Noah's Ark, but most researchers focus the search within the biblical mountains of Ararat/Urartu as stated in the Genesis account. Within this region there are four primary areas of interest: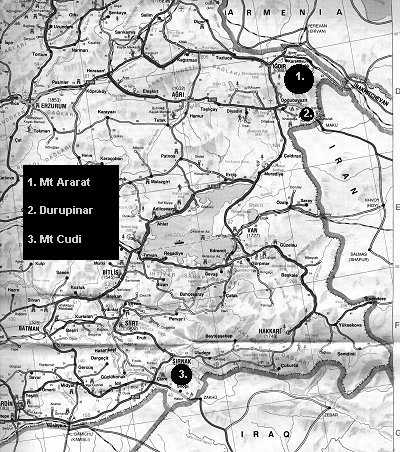 ---


Home | Overview | Book | FAQ's | ArcImaging | Links | News
Presentation | Urartu | Mt. Ararat | Mt. Cudi | Durupinar | Iran | Bible Archaeology | Ark Game