Welcome
Welcome to NoahsArkSearch.com and the historic search for Noah's Ark in the highlands of Urartu from Genesis 8:4. Enjoy the journey!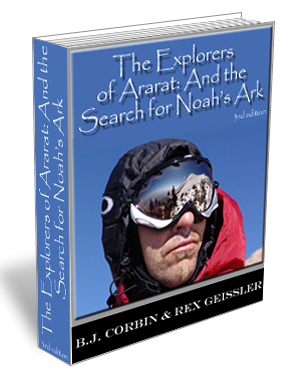 The NoahsArkSearch.com website includes The Explorers Of Ararat: And the Search for Noah's Ark book and the ArcImaging (Archaeological Imaging Research Consortium) Research Team and discusses many views.
Noah's Ark has not been documented and despite the alleged eyewitnesses in the 20th century, there are questions whether it could have survived from the cataclysmic flood until the present day. This website provides a "big tent" for ark researchers to share their information and research about the historical search for Noah's Ark.
Primary areas people have searched for the remains of Noah's Ark include the biblical "mountains of Urartu/Ararat" including Mount Ararat and Durupinar as well as outside the region including Mt. Cudi and Iran's Mount Sabalan along with the Zagros Mountains and fellow author B.J. Corbin's book, Seven Mountains to Arrata.